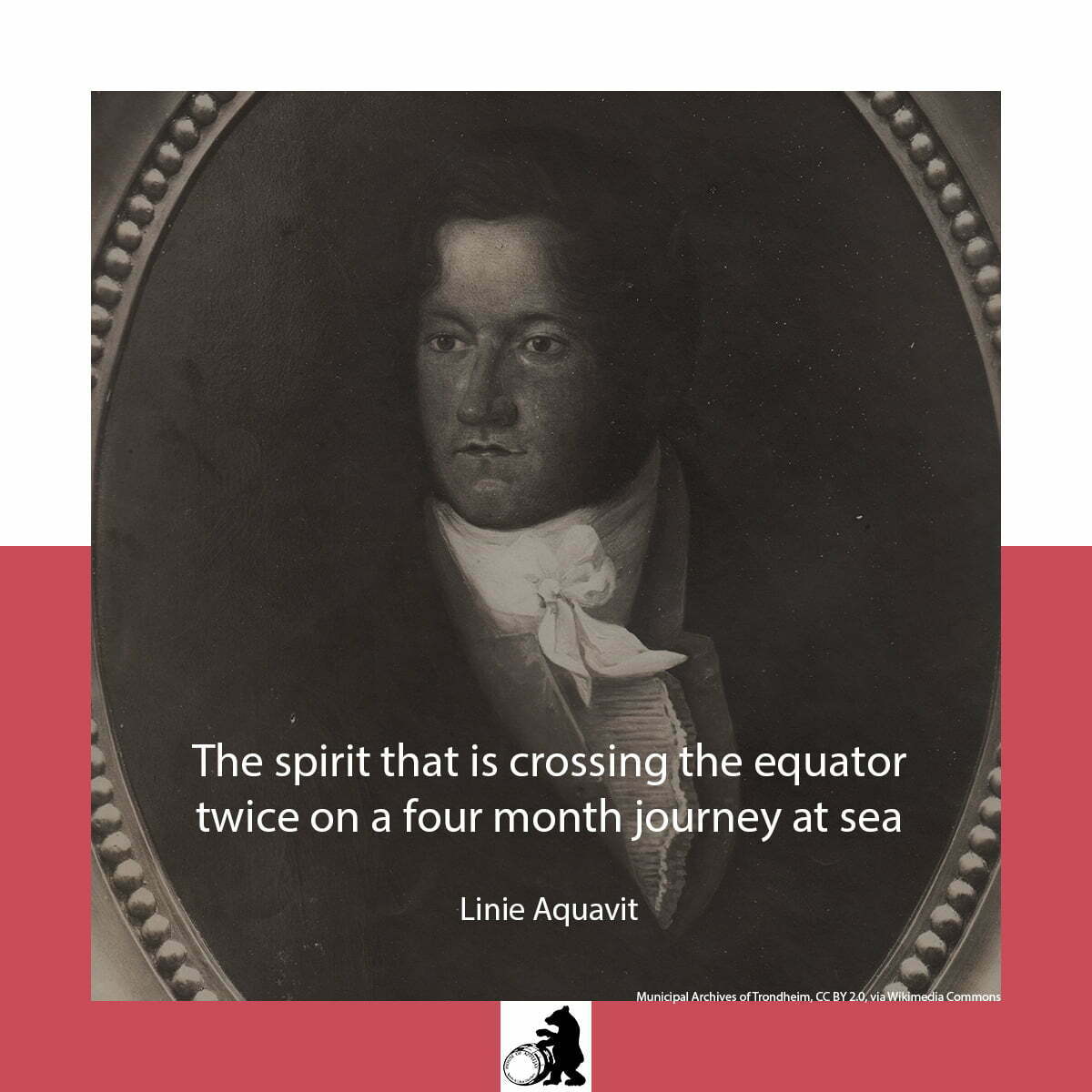 In Norwegian "Linie" means equator, and that is the name of one of the most famous aquavit brand's. The premium market leader from Norway is maturing their aquavit in barrels that are crossing twice the equator on a four-month journey at sea. 
In 1805 the Trondhiems Prøve, a Norwegian schooner, set sail  to the West Indies with aquavit casks on board. According to  the story aquavit was not as popular in the West Indies and five of the barrels of the liquor were returned to Norway. Back in Norway, a small sensation was discovered: due to extended barreling and maturing while crossing twice the equator, the aquavit tasted much milder, finer and spicier than before departure. The change in taste was attributed to the long voyage during which the casks were stored on the schooner's deck, had to endure temperature- and humidity changes caused by salty sea air, and the maturing in wooden barrels that clearly had a very positive influence on the quality of the aquavit. The linie aquavit was in principle invented, aging liquor in sherry casks at sea.
The Lysholmer's were wealthy shopkeepers from Flensburg, Germany, who came to Norway in the 16th century. In 1821, Jørgen B. Lysholm (1796-1843) started a distillery and distillation plant in Trondheim, Norway. He used the knowledge of cask storage at sea and created the first commercially produced Linie Aquavit, the oldest brand of Norwegian aquavit. Even today, there are more than 1,000 barrels of Linie Aquavit maturing as deck cargo at sea at all times. Each Linie Aquavit bottle details its the 4-month voyage around the world on the front label reminding that some discoveries can only be made crossing the equator twice.