EXPERIENCE LIKÖR
LIKÖR HISTORY
In ancient Greece and Rome there was no Likör (liqueur).
The simple reason: the distillation of wine or other substances was yet unknown, and without distilled alcohol there is no Likör. However, the Romans made so called "Likörwein" which can be considered a predecessor of Likör. It was a spicy wine, originally for medicinal purposes made by macerating flowers, leaves and fruits to the wine. Today, more than 50 varieties have survived today. 
The knowledge of distilling created a new category of products.
Likör is likely the category with the most varieties and it does not only include bitter, half-bitter and herbal tastes. A Likör can be made with infusions and flavoring essences of different fruits, coffee, tea, chocolate, it can be creamy, tart, sweet, crisp, or bitter. The alcohol content of liqueurs generally ranges from 15% to 55% ABV (alcohol by volume), although some can be lower or higher.
LIKÖR IN HISTORY
The Early Art of Drinking
Arnoldus Villanovus (Villanova), an alchimist and professor of medicine discusses alcohol as a medicine. As he sweetened the alcohol and added spices and flavors he created the first Likör (liqueur) in history.
Commercial distilling begins in Italy as a citizen of Modena produces large quantities of sweetened and flavored alcohol for sale.
The secret of Likör making is introduced to the king of France. The Likör was an expensive product that was sweetened and flavored with various herbs and spices.
Hieronymus Braunschwig writes the first book about distilling making the process accessible for pharmacists and physicians throughout Europe. Spirit production begins to expand beyond monasteries.
With Catherine de Medici the culture of Likör (liqueur) drinking enters the French Court. As distillates, and sugar are very expensive Likör becomes the drink of the noble class. She marries the future king Henry II in 1533. It is said that her favourite Likör was made from rose petals, orange, and jasmine, among other ingredients.
Michael Savonarola writes a book about the art of Likör (liqueur) distilling for medicinal purposes.
Bols claims that the Bulsius family established the worlds oldest distillery in 1575 in Amsterdam. They opened "t Lootsje" as a Wine and Likör shop, though the oldest evidence of Bols distilling comes 89 years later, in 1664. Undoubtedly, Bols is the oldest distillery in the Netherlands.
Schlitzer distillery is the oldest still-producing distillery in Germany, and maybe even of the world. Signature products are liqueurs, fruit liqueurs, cordials, fine fruit brandies and whiskeys.
C.J. Coolhaes warns about grain distilling and mentions that grain based spirits are often mixed with sugar and honey to create a more palatable drink.
Ambrosius Vermöllen opens the "Salmon of Danzig", a famous German Likör (liqueur) distillery in Danzig. The distillery has produced and sold internationally its legendary Likör (liqueurs) including the "Danziger Goldwasser". The distillery and its products were mentioned many times in fiction and art in subsequent centuries.
end of 16th century
Germany, Sweden, Netherlands
Grain distilling is gaining importance. Due to the first distillates tasting so poorly, these distillates are often flavored with juniper, and other spices, and sweetened.
Distilling is integrated into the rural economy, and distillers guilds are founded throughout Europe for quality controls, and tax purposes. As trade rises wines are fortified, and Likör and brandy become sought after trade products.
Centers of grain spirit distilling develop. There is still a strong public opinion against the abuse of cereals for manufacturing alcohol – in parts driven by the beer industry.
The term "Aqua vitae" gets replaced by the term "brandy" a short form of "branntwein", "brandewine", "brandy wine" reflecting the Dutch-German influence in distilling history. "Branntwein" literally translates from German to English as "distilled wine".
The first European coffee house opens in Rome in 1645. Pope Clement VIII deemed coffee a Christian beverage in 1600, despite appeals to ban the "Muslim drink".
Chocolate is praised a nourishing drink in fashion in France, and Germany.
Procopio opens the first cafe in Paris, selling a wide variety of Likör (liqueurs), sherbets, ices, and creations with coffee.
Audiger publishes "La maison regelee" including recipes to make all kinds of Likör (liqueurs) in the Italian fashion.
Montpellier becomes center for Likör production in France, production is perfected, and Likör becomes popular among the upper classes.
Tea consumption begins to become considerable as direct trade with China begins. 
British Parliament passes an act prohibiting the importation of rum and brandies into the colony of Georgia. Possibly the first moonshine stills ever operated in America are set up in the back country of Georgia.
Gerome Maubec, a monk from La Grande Chartreuse creates an herbal elixir of long life. The Likör (liqueur) is the still made by the monastic order today (other than Bénédictine liqueur, which was developed in 1863 by Alexandre Le Grand).
Due to the very high sugar prices, the consumption of liqueurs was limited to the wealthiest sections of the population until the end 18th century. In 1801 Franz Karl Achard opened with the support of King Friedrich Wilhelm III the first sugar beet refinery at Gut Kunern near Steinau Silesia, Prussia. This made sugar affordable for all classes, and it broke the sugar cane monopoly of the British Empire.
The pharmacist Ausano Ramazzotti from Bologna used his experience in the wine and liqueur trades in Milan to develop his own herbal liqueur in 1815 called Ramazotti.
Alexandre Le Grand develops Bénédictine, a herbal Likör basing on old monastery recipes from the Fécamp Abbey of the Benedictines. The company claims that the monk Bernardo Vincelli, who originally came from Veneto, was already preparing forerunners of the later liqueur around 1510.
In 1876, Eugen Verpoorten founded the Liqeur-Fabrik & Colonialwaaren of H. Verpoorten in Heinsberg, where he produced eggnog (Eierlikör) commercially for the first time in history.
In 1934 Wilhelm and Curt Mast created Jägermeister, a Kräuterlikör (herbal liqueur) composed with 56 herbs and spices. Jäger-meister has been exported since the early 1970s – today it is available in over 130 countries around the world.
The Blog about
DRINKING & CULTURE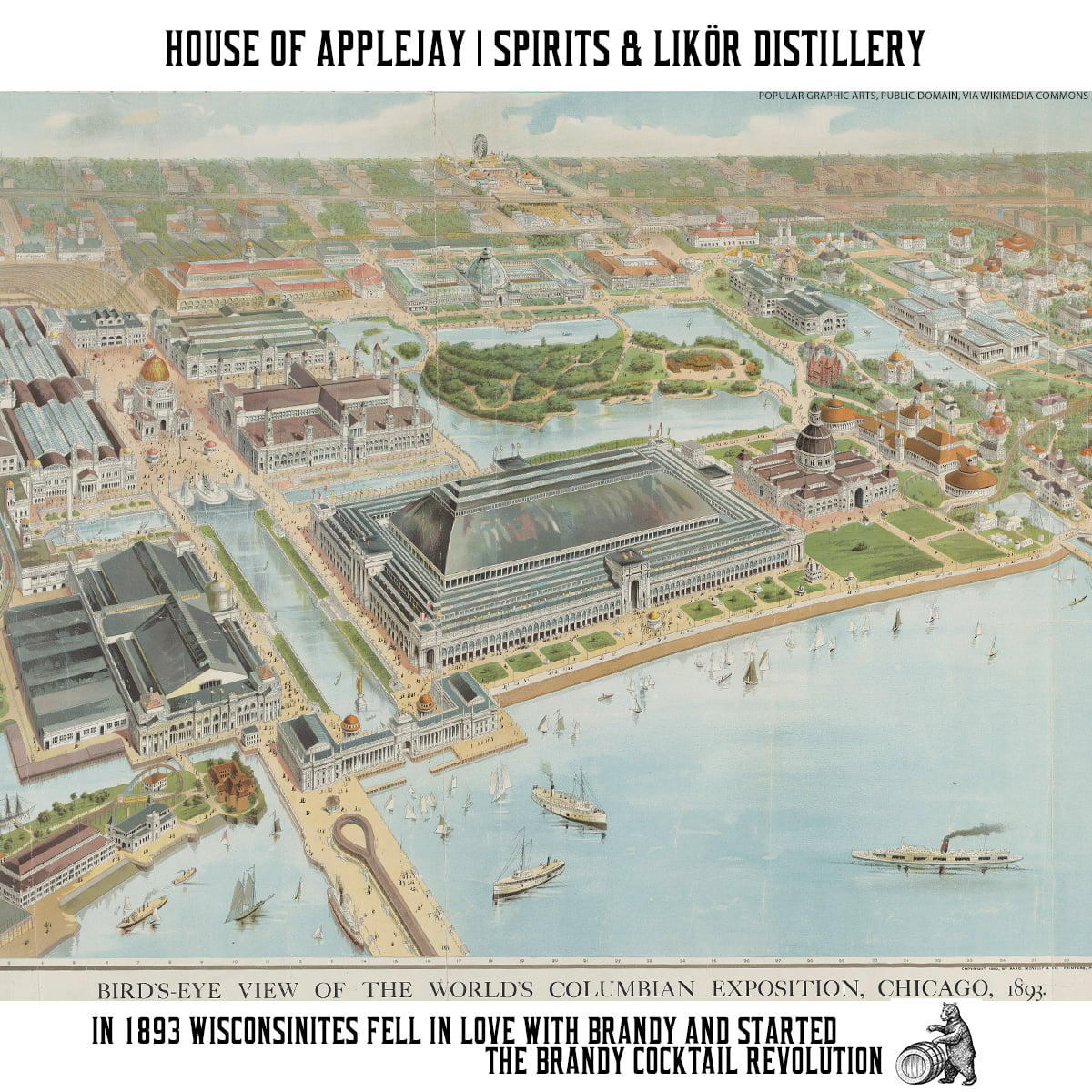 The Brandy Revolution started in Milwaukee. When in 1893 Chicago hosted the World's Columbian Exposition many Wisconsinites visited the exhibition. The trade show hosted among others Captain Pabst displaying his beer, Aunt Jemima demonstrating her pancake mix, and...
THE BLOG ABOUT
DISTILLING HISTORY TOURS